Four-to-floor with Fire, Earth, Air and Water, the characterizing elements of "Snowing on Lava", the artistic maturity for Martino Nencioni. His classy electronic compositions transfuse with naturalistic components characterized by typical rave-culture aesthetics. The "4 elements" fully shine in "Snowing on Lava", a 60 minutes space-less and silent suite. A dense album, which transports the listener to meditate about the origin of cosmos through a whirling and hypnotic crescendo. Fast transformation and ecstatic contemplation, natural elements like stones and aquatic sounds are melted with technoid rhythms, creating a mutable and harmonic world. Echoes of krautrock a là Neu mixed with trancy IDM components from Anglo-Saxon school (see James Holden or Clark). "Snowing on Lava" is the kingdom of Martino Nencioni, in which all the things exist and consist.
Music by Martino Nencioni
Mama Jericho visus claimed by G•D•M•
THIS IS THE 51beats RELEASE FOR THE 2016 NETLABEL DAY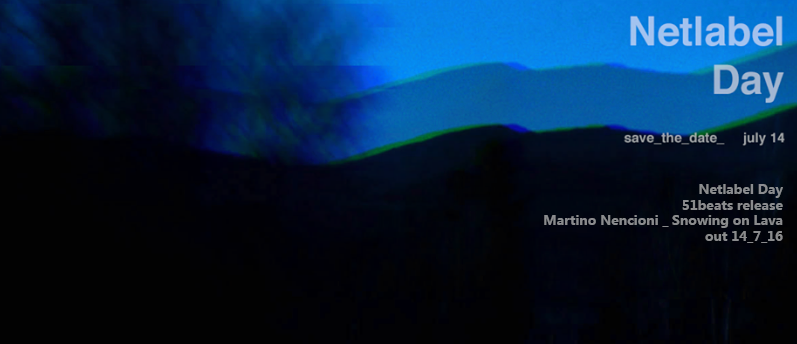 This work is licensed under a Creative Commons Attribution-NonCommercial-NoDerivatives 4.0 International License.
---
PRESS
EXCLUSIVE PREMIERE'
30 June 2016: FULL STREAMING of "Snowing on Lava" by Martino Nencioni | THURSDAY 30 June 2016
13 July 2016: LIVE @ BAA FEST "Experimental Music Festival" | Parco Tittoni, Desio
REVIEW
Billie Ray Martin: "Incredible music"
"It is not often that I hear something that is equally so strange and at the same time makes me want to play it on dance floors, if only to put people in altered states and dance on the wrong foot. Martino Nencioni is a real discovery and should be hailed as a true innovator in electronic soundscapes that explore house themes with a chicago influence, and manages to create soundscapes, without ever slipping into benign deep house. His latest release, Snowing on lava, is dark and full of meaning and defies cliche's." (Billie Ray Martin)
Wicked Style (Neural.it)"La mescola è ipercinematica, molto gradevole e coinvolgente all'ascolto e altrettanto le trame sono ipnotiche e sognanti nello sviluppo successivo."
MilanoX"In "Snowing on Lava" quiete e senso di stasi (pad aerei e distesi, batterie lineari, keyboards) sono oscurati da minacce incombenti (droni, bassi profondi e suoni ambientali), producendo un effetto orrorifico, come se una subdola infezione contaminasse un organismo vivente."
Frequencies (beats tips boutique vol.36) "…un'elettronica che non ha paura di allungare la strada…"
The New Noise "...elettronica lisergica e tossica"
Beach Slot "Nicely deconstructing rave culture through the inclusion of field recordings, nods to classical, and most importantly a sense of pacing, the album at times has a mixtape spirit to it. A sense of play permeates the entirety of the album as Martino Nencioni never dwells too long in any place. Even among his most infectious grooves (of which there are plenty) he remains keenly aware of the need to move. Thus the album is in a constant state of flux."
Intruders.tv (Paris) "Meditative journey from cosmic ambient toIDM & ravey-techno"
CHARTED
Resident Advisor – Best 10 August 2016 by Billie Ray Martin
USED
Altroverso Radio (July 2016)
Studio d'Essai (UK)
LINKED/DISCUSSED
Tsinoshibar (TOP Releases 22/08/2016)
OTHER RELEASES
---