51st Release Anniversary out 17 February 2017, "Gravity and Quantum Mechanics 2" marks our 51st digital release, a very special moment !
13 UP + 13 DOWN tracks with 10 previously unreleased gems
20 51beats' artists involved in the project also featuring Lucretio (from the Analogue Cops) and Joy Kitikonti reworks (with 14 DEBUT-artists @51beats! )
STREAMING @ 51beats, Bandcamp, Soundcloud, Youtube
DIGITAL @ All major stores
BUY HERE THE EXCLUSIVE DOUBLE CD (UP+DOWN):
This work is licensed under a Creative Commons Attribution-NonCommercial-NoDerivatives 4.0 International License.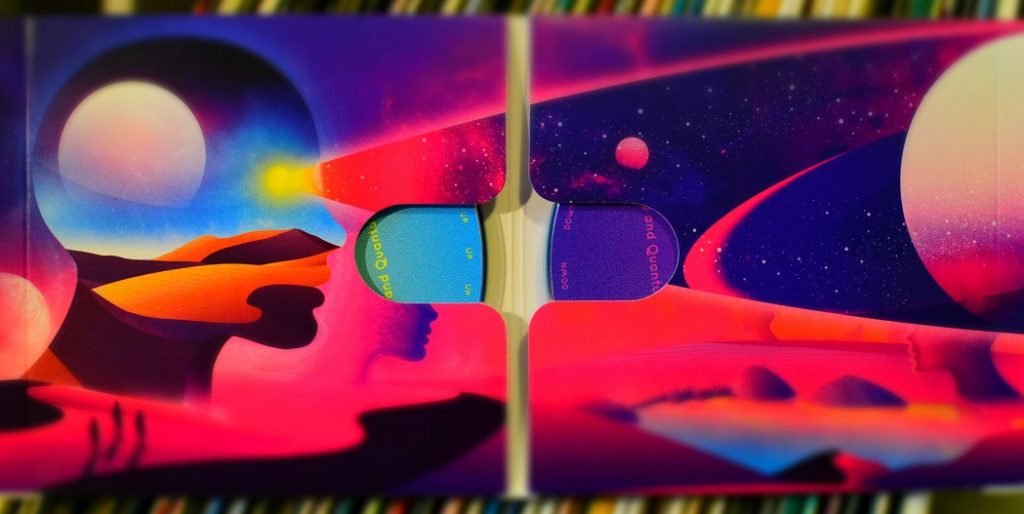 ACHIEVEMENTS
TOP 10 Alternative music chart @iTunes in the The Netherlands !
PREMIERE'
Sentireascoltare "Le coordinate sono quelle cui l'etichetta ci ha abituato, con un'elettronica morbida e soffusa che alterna elegantemente pennellate ambientali ad andamenti più ballabili ma sempre riflessivi, con una qualità che si mantiene costantemente su livelli davvero eccellenti.!"
Fraquencies "Una raccolta per sognare, emozionarsi e muoversi con una selezione della più interessante musica elettronica contemporanea."
CHARTS
10 July 2017: 4 tracks taken from GaQM#2 (by Hana Sent, Marcio McFly, edPorth and J. SIntax) have been charted in the ITUNES Alternative songs charts in the Netherlands !
REVIEW
Billie Ray Martin: "These tunes are so varied and interesting. I love the variety, the beats and athmospheres."
Cyclic Defrost (AUSTRALIA) "What's particularly apparent is the consistency of quality of the tracks collected here;…" / " For the most part, the first "Up" disc leans towards techno-centred sounds, and there's a particular emphasis upon deeply atmospheric and emotive arrangements, with the occasional trace of electro and Italo-house bubbling to the surface…" /"Over on the second 'Down' disc there's a discernible focus upon post-IDM centred influences, but as with the first disc, there's an impressively broad range of sounds on display…." /"All up, 'Gravity & Quantum Mechanics' is well worth checking out, whether you're new to the 51beats label or not. "
Sentireascoltare "Il compendio dei lavori dei 20 artisti chiamati in causa ci regala un'elettronica che spazia tra soffusi e delicati momenti ambient incorniciati da linee vocali accennate e sognanti, e suoni più chiusi propri di una minimal techno da club che si abbandonano quindi a ritmi più ballabili." / "Avrà senza dubbio modo di ricredersi chi trova nella musica elettronica un genere sterile; 51Beats ha infatti pubblicato un lavoro che porterà anche i più agnostici a perdersi all'interno del labirinto emotivo disegnato da produzioni notevoli e soprattutto totalmente made in Italy."
Rockerilla (#440, Apr 2017) "Tra le poche netlabel della vecchia guardia (nata nel 2008) rimaste a segnare il percorso del beat elettronico in Italia, la 51beats celebra la sua 51esima release con un doppio CD fisico che si può copiare legalmente ….." …piccole innovazioni legate all'arte della distribuzione gratuita del suono… " | "Due lati che rappresentano la filosofia della label milanese in fatto di beats. Il primo lento ed elegantissimo, il secondo più dance oriented." (cit. Mirco Salvadori)
The New Noise "…Due cd più che corposi dove l'elettronica (in particolare quella di ambito downbeat) è rappresentata in varie forme e maniere, nella prima parte spiccano in quanto a immediatezza le volute electro della suadente "Mentre Dormi" di Marcio McFly, "Illusion" di J. Sintax e le sincopi electro-jazz di "Bridge" di Sonambient. Nella seconda si fanno notale la melodia quasi orientale di "Hanarcade Summer" di Hana Sent, l'ossessiva dance di Edporth in "Achromatic" e la precisione di Idga in "New Shelter", per non dire del tiro moroderiano di Happy Elf in "Give Me 51beats"."
Dionysian Mysteries "….a variety of electronic jams for home listening or the club. Its a versatile album, and each track mixes and flows well with the next."
Intruders TV (Paris) "electronica, IDM to deep and ambient techno journey"
USED
Pareidolia by edPorth in the Life Style Radio podcast 22 Jan 2017 (dj Bist)
J. Sintax: Illusion in "Wreck this Mess (Digital MCD, Paris)"
SUPPORTED BY: Gabriel Le Mar (Praxxiz Records // MOVE / TanzHausWest Frankfurt) "versatile & rich compilation, brilliant" ; LAURENT N. (LCR & Electropical Records / Various Radio ShowS) "Nice package : thx for that.SUPPORT!" ; Frau Hofmann (tanz.t.raum music) "Good compilation! Thank you." ; RS63 (Grossstadtvögel) "Richtig gutes Werk!!!"; Repton (Login records) "Nice compilation, thanks"; Ivan Smagghe (kill the dj) "all around."; Daniel Mehlhart (WIR / Kindisch) "Great VA! Great Remix!"; Flokati (Flauschig Records, Mellowclub) "nice tracks"; Rich Vom Dorf (Kiddaz / Tächno), Alexander Bien (SONUS.FM) "lots of great tracks here !", Nudisco
(Yellow Tail, Takt, Great Stuff), Romeofoxtrott (Perlekind Records), Repton (Login records) "Nice compilation", Hardy Heller (ohral.com) "the compilation definitely has it´s moments – thanks !", …
LINKED/DISCUSSED
OTHER RELEASES