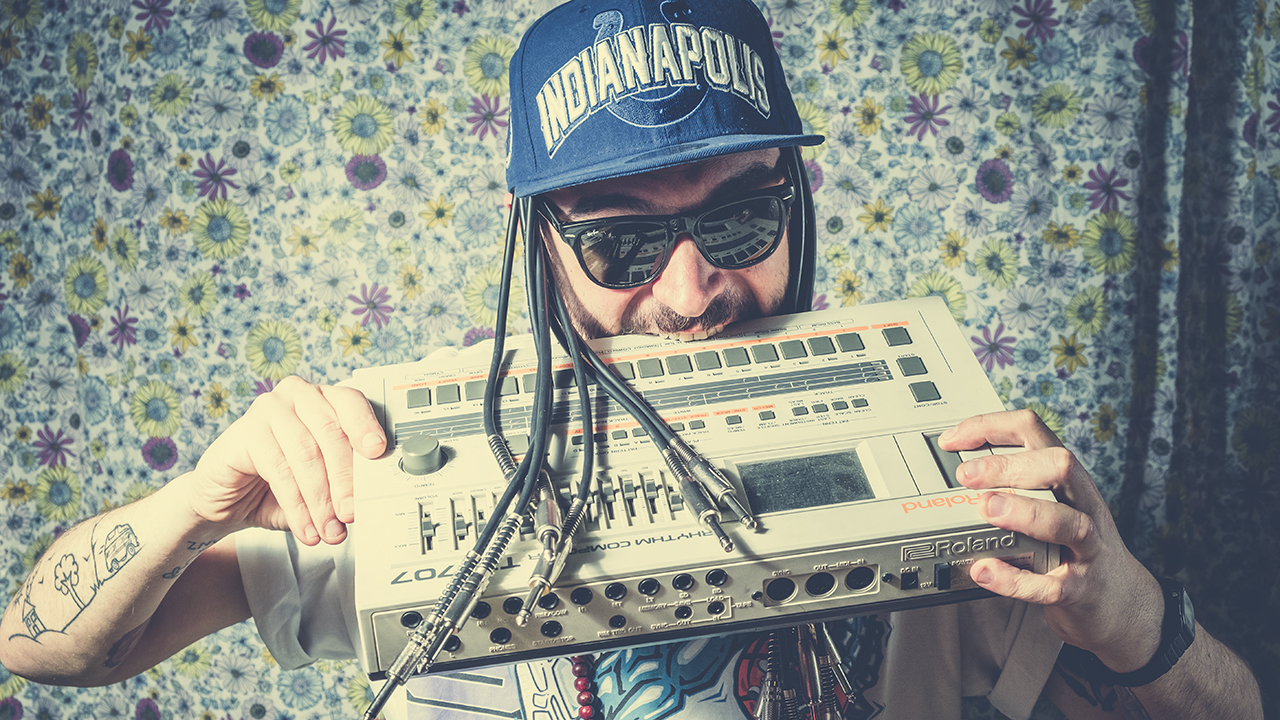 (c) Photo by Federica Lissoni
Marcio McFly plays a central role @51beats since the beginning, being an eclectic artist with interests ranging from analogue synthesizers to country music. Following the first machine-oriented experience with Spectacular Synthesizer, in 2009 Marcio founded "I CANI", later on @icanigiganti, the live-analog synthesizer project that rocked the dancefloors until 2013 with a real live-techno experience. From 2009, Marcio McFly's "solo project" crosses different genres, as clearly defined since his debut-album "Farsi le Foto" that has been nominated in the "Discovery" category at the QWARTZ New Electronic Music Awards in 2010.
Being currently a member of the well-acclaimed @acid-castello madness-trio, @marcio-mcfly presents his latest solo-opera SPACE SAFARI, a superb genre-borders-crossing album where powerful italo hip-hop intersect electro and techno for the most exigent audience. Modular synthesizers and drum-machines meet hip-hop-beats (feat. @devia-clan) and vinyl-old-sKool scratches (feat. DJ Alan).
Credits:
"Divorzio all'Italiana": @devia-clan and DJ Alan
"Predicatori": Ingo from @devia-clan and DJ Alan
"idris": DJ Alan and @devia-clan
"Under Bass": Ingo and Isaac from @devia-clan
"TR.B.ALL": Davide Contento
"Armadillo": Isaac from @devia-clan and DJ Alan
"Con Gas": Davide Contento
"Arrivederci e Grazie": I Piedi
Mentre Dormi RMX by @Double Precision
Graphic Art by Jacopo Sacchi "Bhonz" (@Acid Castello)
This work is licensed under a Creative Commons Attribution-NonCommercial-NoDerivatives 4.0 International License.
ACHIEVEMENT
"Armadillo" in the shortlist of the best Netlabels' tracks Awards @Wolf-Trips
"Esperienza Mediterranea" picked-up @XLR8R+
PREMIERE'
@Le Visiteur (UK) "…Marcio Mcfly has dropped a straight up peak-time techno monster in 'Madali'. It's got the superfunky bassline, industrial synths, super solid drums and some great percussion, this is a track which you can expect to hear at peak-time, a track which will sound absolutely perfect at 4am in dark smoke filled basements with 100's of like minded techno lovers sharing a moment…."
@Loose Lips (UK) "A scratched out tribute to the 1961 Italian classic film of the same name, on a bed of Hip-Hop beats and bubbly synths.. "
@Euphonics (UK) "Idris introduces the more hip hop focused elements of the release, with a funky guitar, a classic nineties beat and scratched vocal samples."
REVIEWS
@Cue Mag (South Africa) "… An artist who isn't afraid to stray back and forth across genre lines, he has put together a body music touching on house, techno and hip-hop. His new album, 'Space Safari', is an operatic exploration these three genres, all filtered through a dominating vein in Marcio McFly's music: synthesizers. 'Space Safari' is just that: a journey through wild cosmic environments that will blow your mind."