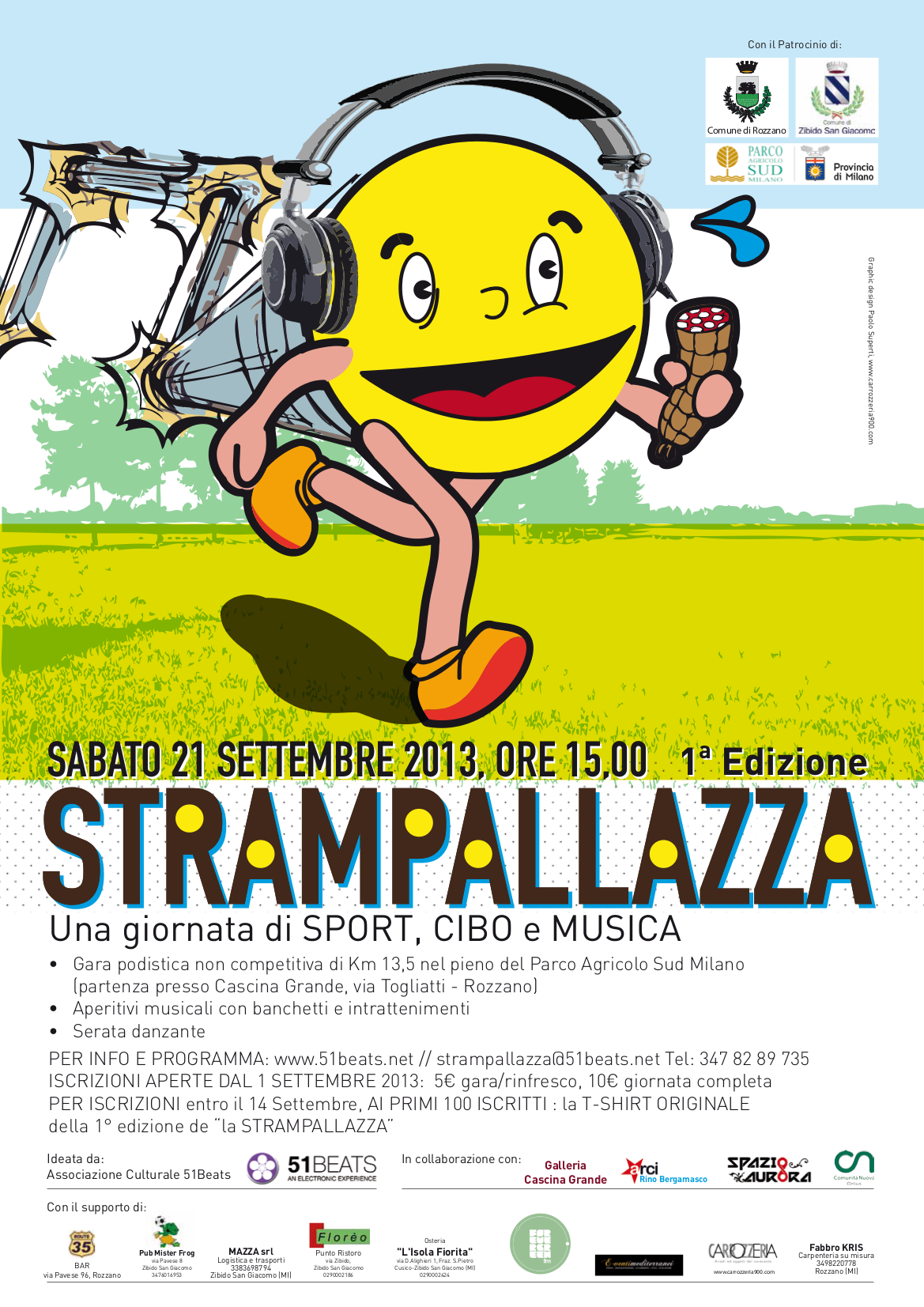 Con Il Patrocinio di:
LE FOTO UFFICIALI DELLA 1a EDIZIONE DELLA STRAMPALLAZZA QUI
Una giornata di Sport, Cibo e Musica 
Una manifestazione che sconvolgerà e coinvolgerà la cittadinanza e che attirerà pubblico e partecipanti dalla provincia di Milano tutta e non solo. Un evento a 360° che avrà inizio con una gara podistica non competitiva nel cuore del Parco Sud Milano, tra percorsi ciclopedonali ("Camminando sull'Acqua"), al fianco delle storiche chiuse progettate da Leonardo da Vinci. Un percorso di 13,5 Km (cammini ridotti di 4 e 10 km), con punti di ristoro, si snoderà tra risaie e cascine per una completa immersione in questo fantastico territorio. La manifestazione podistica partirà e si concluderà nel magnifico contesto della Cascina Grande di Rozzano. A conclusione della gara, in collaborazione con il  "Circolo Arci Rino Bergamasco", verrà offerto ai partecipanti un rinfresco a base di Pane, Salame e Vino…e acqua ;). La manifestazione proseguirà presso la "Galleria Cascina Grande", dove un aperitivo musicale accompagnerà momenti di dialogo e scambio culturale grazie alla partecipazione di diverse realtà associative del territorio, mediante allestimento di spazi espositivi all'aperto. La giornata sarà caratterizzata da una graduale transizione verso una serata danzante a "Km 0", dove, a piedi, ci si potrà recare presso il complesso dello Spazio Aurora dove la prima edizione de la STRAMPALLAZZA terminerà con una notte di musica e balli sfrenati curati da 51beats.
PROGRAMMA (LOCANDINA UFFICIALE)

Ore 15:00 Iscrizione/punzonatura presso Galleria Cascina Grande Via P. Togliatti, Rozzano (MI)
Ore 16:00 Partenza gara podistica PERCORSO (download pdf kml gpx)
Ore 18:00 Rinfresco Pane, Salame e Vino offerto da Circolo R. Bergamasco
Ore 19:00 Aperitivo musicale presso Galleria Cascina Grande
Djset a 360° curato da 51beats
Banchetti espositivi di realtà legate al cibo, la musica ed il territorio || Banchetto espositivo di 51beats con raccolta di demo di artisti emergenti (porta il tuo CD!) 
Ore 22:30 @SPAZIO AURORA 
Younger and Better live (post-rock)  "Nati nel 2012, gli Younger and Better coniugano chitarre affilate ad elettronica per un mix di stampo post-rock dalle venature oscure, completato da ritmiche accelerate e liriche essenziali."
–> LA STRAMPALLAZZA DA VOCE A GIOVANI BAND DI QUALITA' DEL TERRITORIO
Gollywop djset "…spirito libero che vaga nella notte a cercare menti da rapire con il suo stile essenziale ed ipnotico. Uno sballo di quelli che prendono bene che secca la bocca e scarica l'adrenalina così come fanno le improvvise piogge autunnali…" (twi) "
From Forevergreen: XENUM !!! https://soundcloud.com/xenum
Robidat djset – the closing
Foto percorso 01 02 03 04 05 06 07 08 09 10 11 12 13 14
REGOLAMENTO GARA PODISTICA
La manifestazione si terrà anche in caso di pioggia.
Percorso su asfalto (70%), ghiaia fine (25%), sterrato (5%)
L'iscrizione e partecipazione volontaria alla manifestazione si considera come tacita dichiarazione di idoneità fisica inerente la normativa di legge prevista dal D.M. 28/02/1983 sulla tutela sanitaria per l'attività sportiva amatoriale e non competitiva oggetto della manifestazione. L'organizzazione declina pertanto ogni responsabilità civile e penale per quanto fisicamente possa accadere, prima, durante e dopo la manifestazione.
L'organizzazione è altresì sollevata da ogni responsabilità (civile e penale) per danni a persone e/o cose da ella/egli causati durante lo svolgimento della manifestazione.
I partecipanti concedono autorizzazione ad eventuale impiego non-commerciale da parte degli organizzatori di eventuali immagini ritraenti la loro persona e relative alla partecipazione all'evento.
SI RICORDA CHE IL CODICE DELLA STRADA OBBLIGA I PEDONI, IN MANCANZA DEL MARCIAPIEDE, A PROCEDERE SUL MARGINE SINISTRO DELLA CARREGGIATA. E' OBBLIGATORIO SEGUIRE LE SEGNALAZIONI E LE ISTRUZIONI DEGLI ORGANIZZATORI SENZA ABBANDONARE IL PERCORSO.
Iscrizione parziale 5€ darà diritto a:
– pettorina originale della 1° edizione de "la STRAMPALLAZZA"
– partecipazione gara podistica
– ristori durante il percorso
– rinfresco a base di Pane, Salame e Vino offerto da circolo Arci Rino Bergamasco 
Iscrizione completa 10€ darà diritto a:
– pettorina originale della 1° edizione de "la STRAMPALLAZZA"
– partecipazione gara podistica
– ristori durante il percorso
– rinfresco a base di Pane, Salame e Vino presso circolo Arci Rino Bergamasco
– bevanda durante l'aperitivo serale presso Galleria Cascina Grande o Spazio Aurora
– ingresso alla serata presso Spazio Aurora
MODALITA' DI ISCRIZIONE / a partire da Domenica 1 Settembre
Preiscrizioni ONLINE:
1. Invia una email con oggetto "mi iscrivo" a strampallazza@51beats.net con tuo nome e cognome e modalita' iscrizione (5€: solo gara/rinfreschi o 10€: gara/rinfreschi/bevuta aperitivo/ingresso serata)
2. Ti invieremo il modulo di iscrizione, completalo e portalo con te alle 15 del 21 al banchetto per consegnarlo, ritirare braccialetto e pettorina o maglietta (se sei nei primi 100)
Preiscrizioni in PREVENDITA presso:
– Decathlon Rozzano (di fronte centro commerciale Fiordaliso)
– Arci Rino Bergamasco, Via Togliatti 117 Rozzano
ISCRIZIONI IL GIORNO DELLA GARA:
Presentarsi alle 15 puntuali al banco punzonatura presso la Cascina Grande. Compilerete in loco il modulo, pagando e ritirando il bracciale.
IMPORTANTE: inviare comunque una email a strampallazza@51beats.net con oggetto "mi iscrivo il giorno della gara", di modo da permettere all'organizzazione di pianificare i ristori.
PER ISCRIZIONI entro il 14 Settembre, AI PRIMI 100 ISCRITTI : la T-SHIRT ORIGINALE della 1° edizione de "la STRAMPALLAZZA" con artwork originale !!
Ideata da 51BEATS, in Collaborazione con Circolo Arci R. Bergamasco, Galleria Cascina Grande, Spazio Aurora e Comunità Nuova
Con il Supporto di:
Bar Tabacchi "Route 35", Via Pavese 96 Rozzano (MI)
Pub "Mr. Frog", Via Pavese 8 Rozzano (MI)
Mazza srl Logistica e Trasporti, Zibido San Giacomo (MI)
Centro Giardinaggio e Punto di Ristoro "Floreo", Via Zibido, Zibido San Giacomo (MI) – 0290002186
Osteria "L'Isola Fiorita", Via D. Alighieri 1, Fraz. S. Pietro Cusico – Zibido San Giacomo (MI) – 0290002424
Forevergreen – label and events
Carrozzeria 900 "Arredi ed Oggetti del Novecento"
Fabbro KRIS "Carpenteria su Misura", Rozzano (MI)
AMA Rozzano spa
PARLANO DI NOI:
Gruppo Podistco "le Salamelle"
Gruppo Podistico USSA Rozzazno
Tutto Rozzano (Settembre 2013)
ZERO "…..a organizzarla sono gli amici di 51beats, etichetta elettronica indipendente che licenzia musicisti come Adriano Canzian e Cani Giganti. Dopo la corsa – con ristori e rinfresco finale a pane, salame e vino – sono previsti un aperitivo musicale in Cascina Grande e un party finale allo Spazio Auroara. Ed eccoci al terzo motivo per il quale parteciperò. In Rozzano we trust."